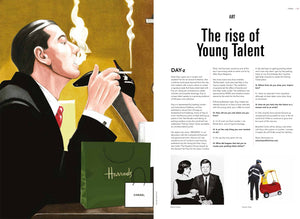 Artist Day-z grew up in London and studied Fine Art at Central St Martins. She combines techniques learned from the classical masters with current culture to create a signature style that fuses street style with fine art. Using pen and pencil to create intricate and exquisite drawings, Day-z's unique talent speaks to a growing audience of followers and collectors.   Day-z is represented by leading London and International Galleries, and has exhibited in shows from Chicago to Switzerland and Salzburg. Some of Day-z's more mischievous antics include sticking up pieces in the Tate Modern and taking on parking wardens across the...
---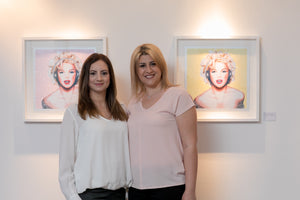 "Re- Branded" - Debut Solo Show in Cyprus by Day-z  Re-Branded're-interprets the way brands affect us in a new way. Revealing unseen drawing and brand new pieces for the first time, Day-z presents her most eclectic collection of unique artworks to date. AKAMANTIS Business Center and Day-z invite you to the opening solo exhibition The exhibition will be inaugurated by the Honorary Chairman of KPMG, Mr. Nicos Syrimis. Critically acclaimed and picked up by leading press in country, this exhibition has been heralded as one of the best contemporary art shows in Cyprus.   
---
Terms and Conditions We do not store customer credit card details nor do we share customer details with any 3rd parties Delivery Policy:  Royal Mail Recorded Delivery £4.35 (1-5 working days)                                  Next Day Delivery £8 (including 24hour production time) Refund/ Cancellation policy:  If a product has been damaged in transit or is faulty, please contact us on 07957495720  or email dayzartist@gmail.com within 3 working days of order receipt to arrange a replacement or a refund and return of the faulty. In such cases, any replacement will be...
---
Galleries Imitate Modern http://imitatemodern.com/product-category/day-z-2/ Beautiful Crime http://www.beautifulcrime.com/shop/?category=Day-z  SamHart Gallery http://www.samhartgallery.com/#!day-z/c1onn Just Another Art Gallery http://justanotherartgallery.com/our-artists/day-z.html Velvenoir http://www.velvenoir.com/artist/day-z/   Exhibitions 2016 - Ashurst, 'Branded' Solo Show    2015 - For The Love of London, Beautiful Crime 2015 - Velvenoir Launch, Austria 2015 - The Royal West of England,  Drawn 2015, Bristol 2015 - Beautiful Crime Launch, Shoreditch EC2   2014 -  ­ Mall Galleries, ­ Derwent Art Prize, ­ The Mall SW1 2014 ­-  Imitate Modern, ­ Exposed, ­ Marlybone W1G 2014 ­ - Old Truman Brewery, ­ Moniker, ­ London E1   2013 ­ - The Box Boutique, ­ Pop...
---
• art • Caravaggio • Day-z • drawing • fine art • new era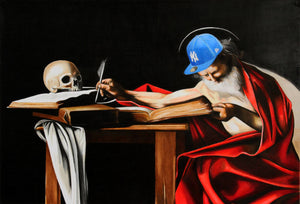 The Saatchi Gallery Magazine, 'A Law Unto Themselves':  http://artmag.saatchigallery.com/a-law-unto-themselves/   Time Out, 'For the Love of London' http://www.timeout.com/london/blog/an-exhibition-of-london-inspired-artwork-is-coming-to-shoreditch-091115   For the Love of London @ Beautiful Crime - 2015 http://wsimag.com/art/17354-for-the-love-of-london   British Airways and Christopher Ward Collaboration http://theclub.ba.com/august-2015/en/dayzs-street-art-tour-of-london/   The Royal West of England - 2015 http://rwa.org.uk/whats-on/exhibitions/2015/03/drawn2015/   Beautiful Crime Launch - 2015 http://www.beautifulcrime.com/new-blog/2015/3/18/beautiful-crime-gallery-launches-in-shoreditch